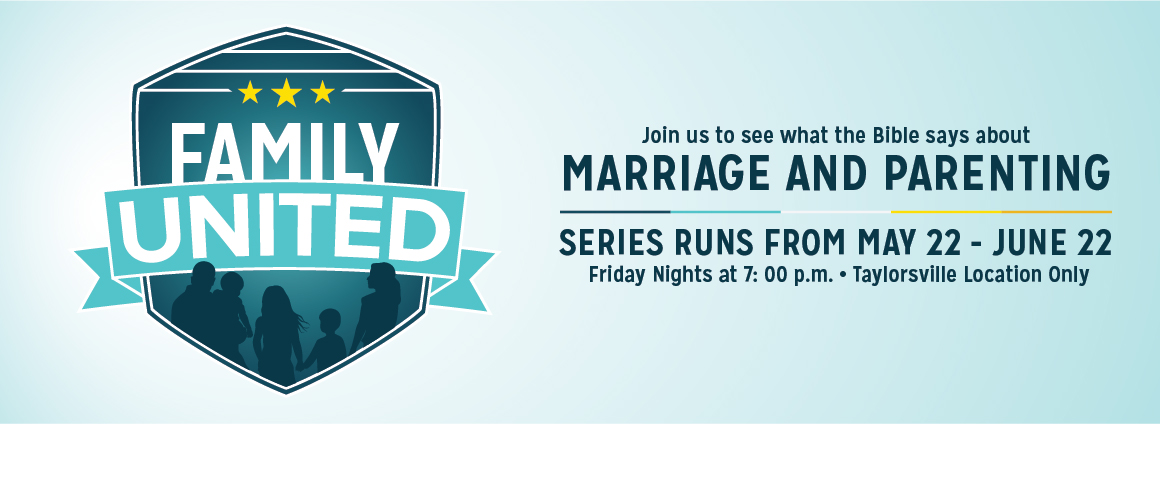 Most people start their marriages with the high hopes of "happily ever after". But, then life gets in the way, and they find that they are not united (or happy) with the person they started out being so close to. Add children to the mix, and suddenly, a home of love and unity seems impossible!
Join us for a four week series at our Taylorsville Location, where we'll look at what the Bible says about marriage and parenting — so our homes can be "Family: United."
May 22, (Part One — Marriage)
Having a great marriage is not second-nature to anyone, yet a failing marriage often takes one or both people by surprise. This message shares four practical steps that can guarantee unity and give hope for a solid future.
May 29, (Part Two — Marriage)
Having disunity with your spouse is often compounded by the onslaught of difficult circumstances and bad decisions. When the storms of life hit your marriage, it's time to move to higher ground — the place of forgiveness.
June 5, (Part Three — Marriage)
Do you feel like your marriage is on the brink of destruction, is vulnerable and exposed? If so, it's time to take cover. This message looks at five preventive steps on how to protect your marriage from the destructive forces assailing it.
June 12, (Part Four — Parenting)
Marriage is hard enough, but throw in some children and most people feel completely lost and bewildered. How do you survive and thrive as a parent? The Bible gives clear instructions to guide you through the jungle of parenting.
Posted in Service, West by The Rock Church